By using 90-minutes.org you agree to our
use of cookies
to enhance your experience.
Welcome to 90-minutes.org

2005 - 2023
since

18

years,

200

days
90-minutes.org - online football manager the browsergame
In the
free browser game 90-minutes.org - online football manager
you can create your whole skills as trainers and managers to demonstrate!
Here you can compete with thousands of human players from different countries and show your real abilities!
Play with your team against other teams, set up a training plan, choose the right tactics, manage your finances, negotiate with sponsors, build your stadium, act skillfully on the transfer market and become the champion in your league...
And finally the best,
90-minutes.org is Free-2-Play!
| | |
| --- | --- |
| from 11:00:00 : | Training England |
| from 11:00:00 : | Training Netherlands |
| from 12:00:00 : | Training Switzerland |
| from 12:00:00 : | Training Austria |
| from 13:00:00 : | Training Germany |
| from 18:00:00 : | Friendly matches |
| from 18:00:00 : | Team World Cup matches |
Booking a premium account with PayPal without an account
Dear 90-minutes community,
We have received several enquiries from you regarding the payment provider PayPal. We understand perfectly if there are reservations about the payment service provider. PayPal offers us some advantages. However, this does not mean that we will not offer other payment providers for Premium Account payments in the future. As we have heard from you, some of you do not want to open a PayPal account. Therefore, we would like to explicitly point out that you do NOT need to have a PayPal account to book the Premium Account. There is the option to pay without a PayPal account. In this case, PayPal will of course process the payment, but you do not need to open an account with PayPal. You can find this option here: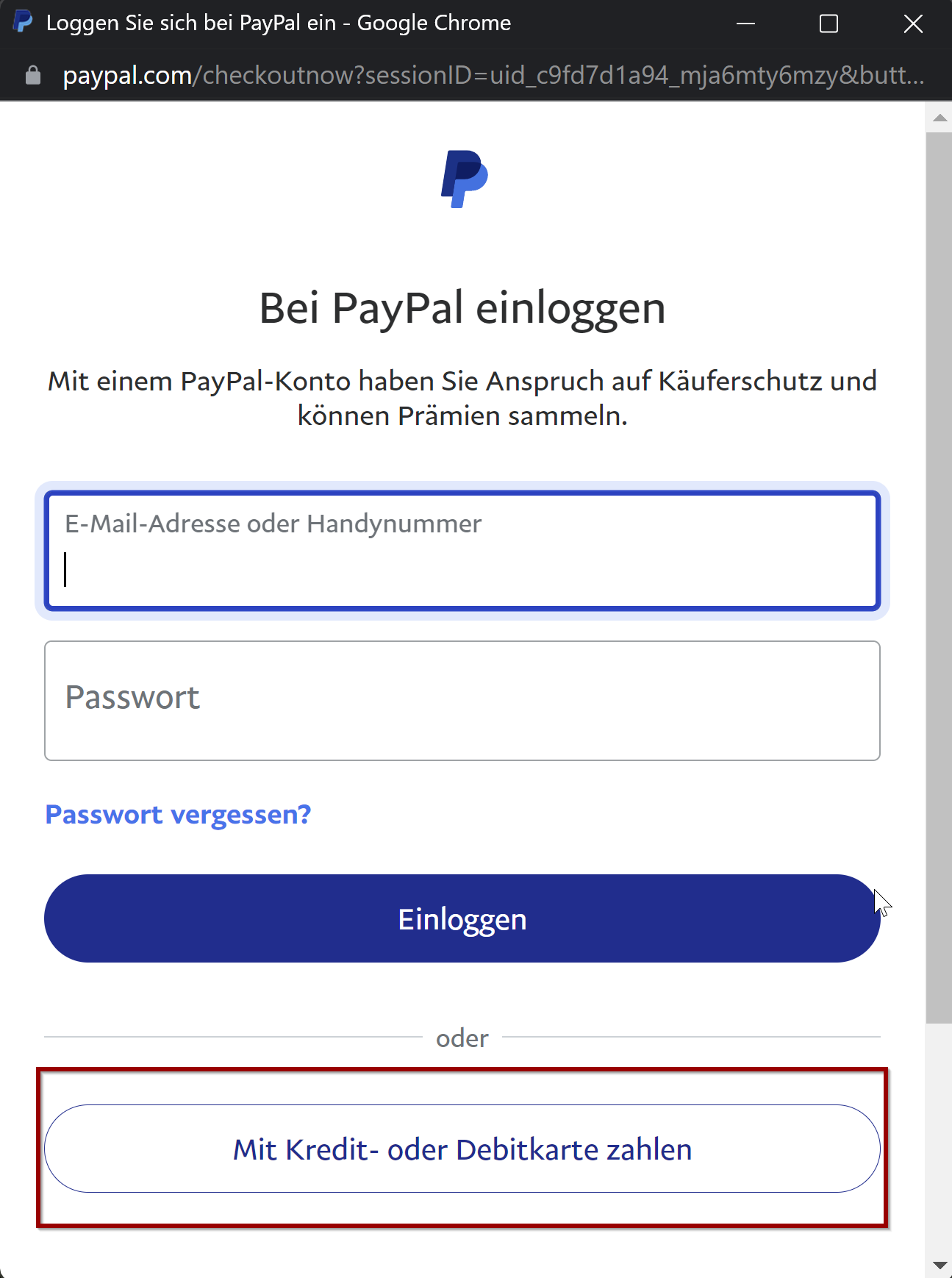 We wanted to take the opportunity to point this out again, as we have received a number of enquiries from you about this.
Dennis from the 90-minutes.org team
Forum
Some of you may have already discovered it. The forum is online again since yesterday evening. There is still a problem with the display of the team banners. Apart from that, we have tested the forum once and hope that we have not overlooked anything. If we have missed something, please report it in the forum or via the "Contact officials" section.
Thank you very much!
Euer 90-minutes.org Team
New payment system online
Dear 90-minutes Community,
There has been a lot going on behind the scenes this year. As you will have noticed, there were server changes at the end of the year or the beginning of the year, which were implemented at great expense. In the process of these changes, adjustments had to be made to the payment interface, as the payment connection was no longer up to date. Not least for legal and tax reasons, these adjustments were necessary in order to be able to continue operating 90-minutes.
The new payment interface is now live and Premium Accounts can be booked again.
What is new and different now:
VAT will now be added to the net price (Please note that this is the first price adjustment since the game was founded 17 years ago). You will receive an automatically generated invoice when you purchase a premium account.
Payment will be made via Paypal. We will check to what effect the other payment providers Micropayment and Paysafecard can be integrated into the new system.
Dennis from the 90-minutes.org Team